crash
Details of today's plane crash - N611VG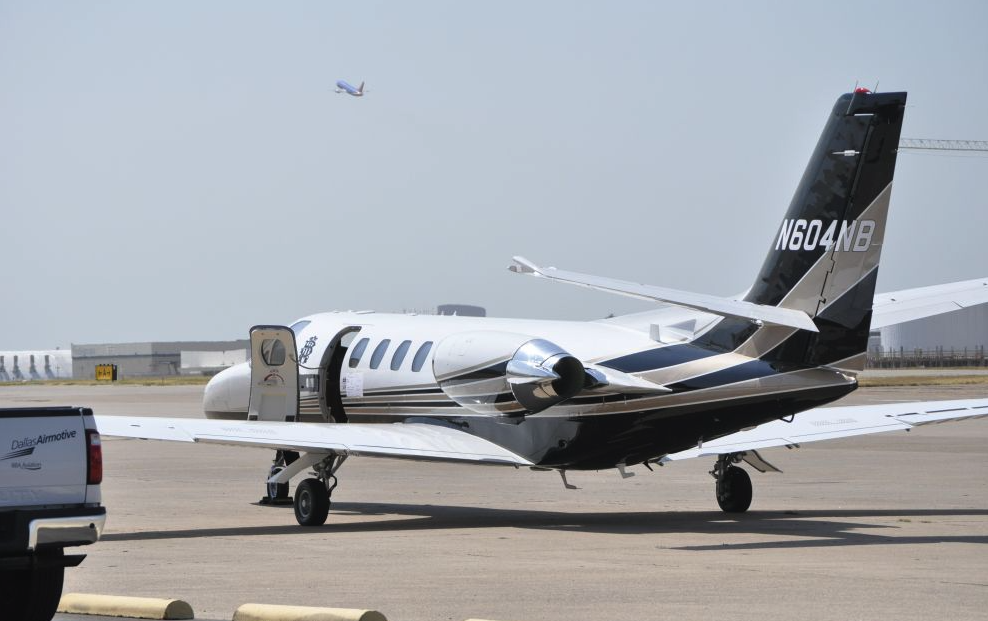 Earlier today (6/4/23) there was a plane crash about 130 miles southwest of Washington, D.C. The aircraft was a small private jet - a Cessna 560 carrying registration number N611VG, manufactured in 1990.
If you spent the day Googling that NNumber, you probably didn't find much. That's because the plane received its airworthiness certificate from the FAA just 37 days ago on April 28th, 2023. At the time of the crash, N611VG was registered to Encore Motors of Melbourne, Inc. (Florida, USA) who bought the plane on April 17th, 2023.
According to the Florida Division of Corporations, the business had been formed in 2012 by John and Barbara Rumpel, with Barbara serving as president of the company since 2013. Both have been committed members of the NRA for years.
Before Encore Motors owned this aircraft, other owners included a 2015 entity in Venezuala, carrying registration YV3178 and before that was US-based Aviation Marketing Group with registration N604NB. There were a handful of other owners of this aircraft dating back to the manufacture year.
---
In the 48 days that Encore Motors of Melbourne, Inc. has owned this aircraft, today's flight was the aircraft's 12th day in the air. On 4/18/23, the first day the plane was owned by Rumpel, the aircraft made a trip to Indianapolis, IN just 2 days after the NRA convention ended. It then flew to Manassas, VA, just outside of Washington, D.C. This is the closest regional airport to the NRA headquarters in Fairfax, VA. The plane returned to Melbourne the same day.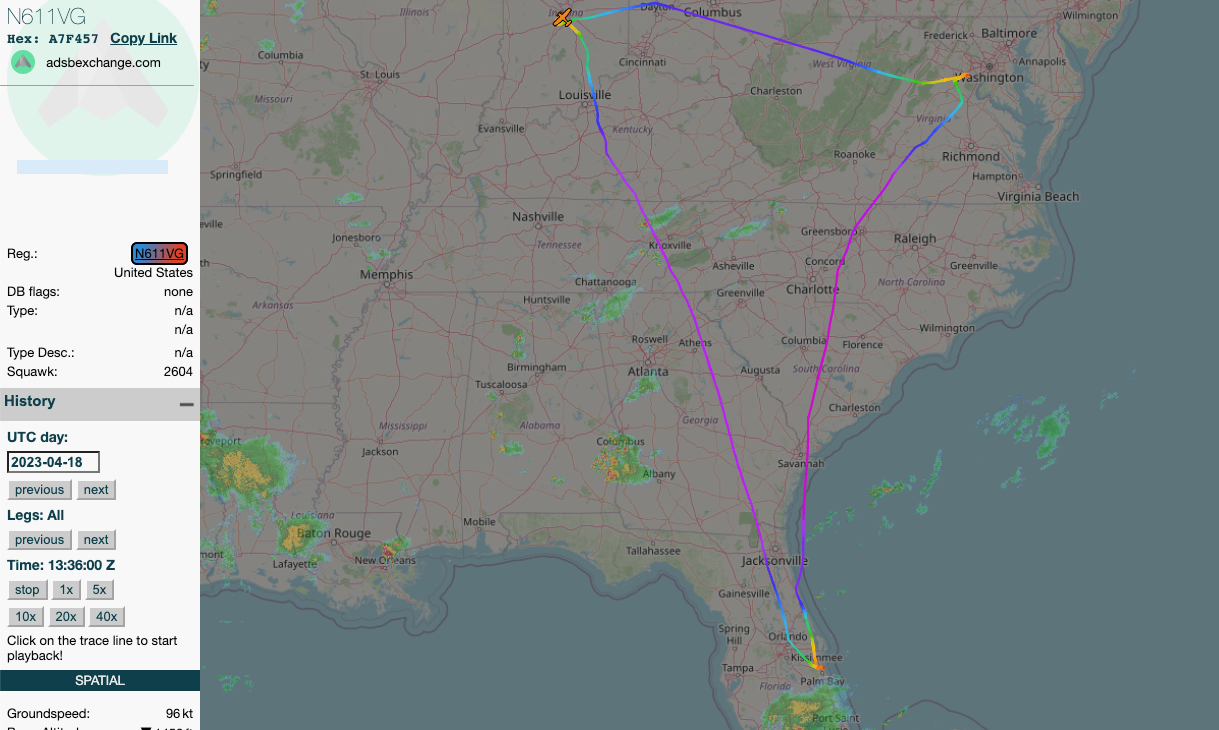 Most of the other trips were unremarkable - test flights around Melbourne, one there-and-back trip to the Gulf side of Florida and one to South Carolina.  There is one standout, however. On June 1st, just 3 days ago, the aircraft made flights similar to destinations similar to those from today. On that day, the aircraft took off from Melbourne, FL around 10:20 AM eastern, landed at Long Island MacArthur Aiport, NY, at around 1pm. At 2pm, the plane took off and landed in Elizabethton, TN at 3:30pm before finally heading back to Melbourne around 4:45pm.
Today was similar, but flown in reverse. It took off from Melbourne at 11:00 AM. It landed in Elizabethton, TN at 12:30 PM. At 1:13 PM, N611VG took off again and headed north. At 2:28 PM when the aircraft was at 34,000 feet, it flew over Long Island MacArthur airport and headed southwest.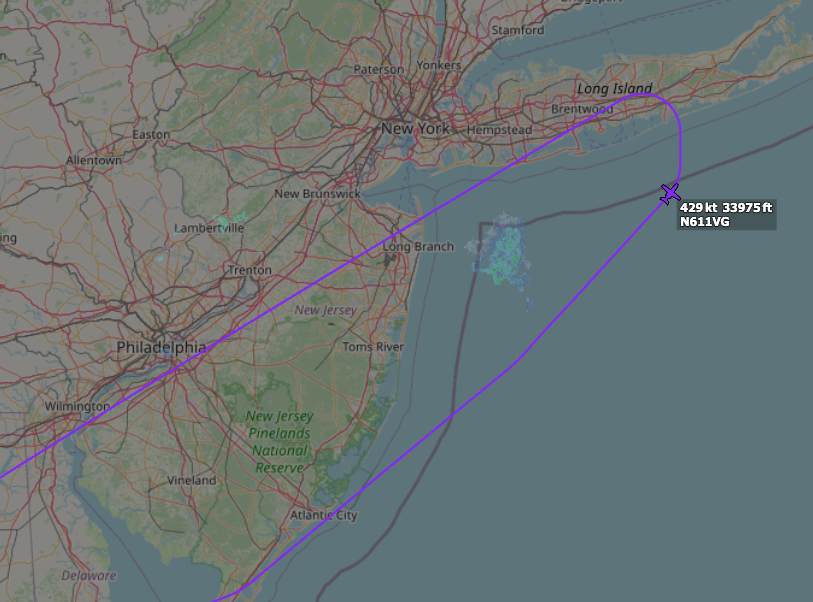 At 3:00 PM, the aircraft was adjacent to Baltimore, MD, still flying at 34,000 feet. As it approached Washington, D.C., F16 fighter jets were scrambled from Joint Base Andrews. Many nearby people noted the sonic boom caused by the aircraf as they made their way into the air.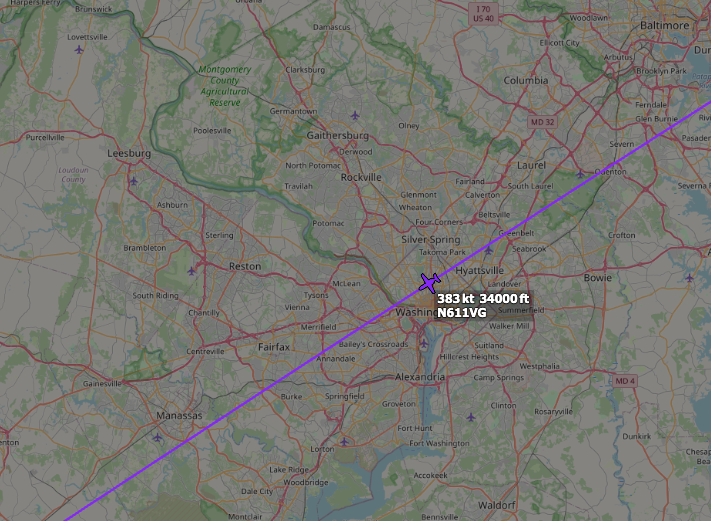 The aircraft continued in a southwest direction at 34,000 feet until it approached a wilderness area south of Staunton, VA. At around 3:22 PM, the plane made a sudden nose dive, spiraling from 34,000 feet to 9,600 feet in a matter of one minute before disappearing from the map.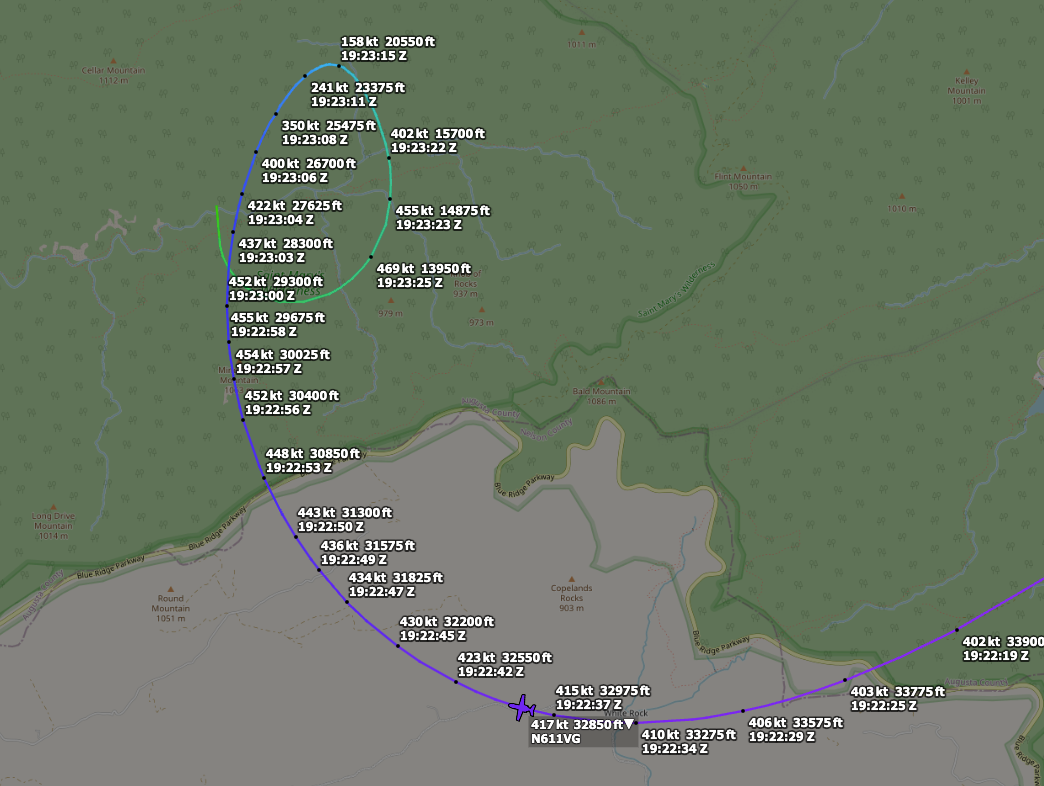 ---
At this time it is unclear who was on board or what the malfunction was to cause this crash. I will try to update this post as new details emerge.